We provide Lined Pond Dredging Consulting and Services
GET STARTED
Contact us about dredge engineering, equipment, pumping, and dewatering to
meet your contract
requirements.
OUR UNIQUE SOLUTION
We offer several multiple liner safe dredges that operate from an A-Frame that drop down a dredging device that does not use a standard cutter head.  We also offer dredges with liner safe wheels, depending upon your needs.
Pond Dredging
Pond Liner Cleaning, Removal, and Replacement
Sludge Removal
Dewatering and Disposal
Our pumping process used during dredging involves accurate measurements and exact placements to insure that the maximum depths can be reached while protecting the pond liner.
To safeguard the sensitive structure of lined ponds, we use auger heads and liner safe wheels with our mobile dredges.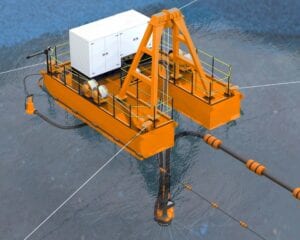 GET STARTED
Contact us about dredging consulting, equipment, pumping and dewatering to meet your contract requirements.