We provide Dam Dredging consulting and dredging services
GET STARTED
Contact us about dredge engineering, equipment, pumping, and dewatering to
meet your contract
requirements.
INDUSTRY PROBLEM
There are about 78,558 dams across the United States which impound an amount of water approximately equivalent to one-year's runoff from the continent.  Despite decades of research, sedimentation is still probably the most serious technical problem faced by the dam industry. Reservoir dredging, lake dredging, and dam dredging are used to restore these water sources to their full capacities. after capacity is reduced by sedimentation every time it rains.
OUR UNIQUE SOLUTION
Dredging will resolve the problem of sedimentation, renewing the dams purpose for many years.  The type of dredging equipment used will depend up water depth, accessibility and type of material. Sediments mainly consist of clay, silt and varied sizes of sand. It can also contain chemical precipitates, organic debris and often, combinations of these.
Choosing the most effective dredging equipment will improve the performance of the dam and the reservoir
.
Yet, any dredging solution must
be transported
and mobilized in remote or mountainous regions
.
Dam Sedimentation
With many reservoirs aging, sedimentation will become more of a challenge.
As sediment accumulates in a reservoir, the dam
gradually
loses its ability to store water, impacting the purpose for which it
was built
.
This leads to clogging, a disruption of the sediment balance, loss of capacity, and
eventually
to the reservoir falling into inactivity
.
For hydro dams, the flow towards the turbines can become
increasingly
polluted and disrupted, resulting in increased maintenance and decreased energy production
.
The ongoing demands of an ever-growing population calls for the continuous alteration of inland waters, and the building of dams and reservoirs for many reasons, such as power generation or prevention of flooding
.
However
, all dams, reservoirs, and hydropower plants
inevitably
face the problem of sedimentation.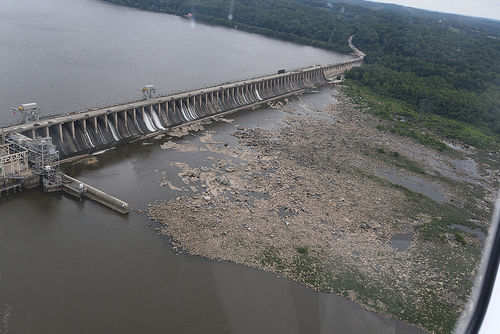 Dredging can be done mechanically or hydraulically
These methods are described below.
Hydraulic dredging is conducted by pumping water from the head of the dredge back through the vessel and out a pipeline to a dewatering area. The pumped water creates a negative pressure that allows the sediment to be moved in slurry form through the pump and pipeline system. Water jets, augers, or cutterheads are used to loosen the sediment. The hydraulic cutterhead dredge is the most common of the hydraulic dredges.
Mechanical dredging may involve draglines or clamshells that are mounted on barges. These operations use support barges to temporarily store dredged material. The barges are moved to shore to unloading areas where the material is loaded on trucks for disposal. This operation requires double handling of sediment and does not compare to hydraulic dredging on the basis of efficiency. Mechanical dredging can also include the use of heavy highway equipment. This
excavation is accomplished by lowering the lake water or waiting until drought conditions have caused the water surface to lower sufficiently to allow access by heavy highway equipment.
Comparing Dredging Costs to Construction of New Reservoirs
Dredging costs are highly variable and driven by pipeline distance to dewatering sites, land costs for dewatering sites, weather, topography, and characteristics of bottom sediments. These variables are such that dredging cost estimates need to be based on site-specific circumstances.
Reservoir costs include land for the lake, embankment, mitigation lands, appurtenances to the dam, such as pump stations, and pipelines to connect the lake to the treatment plant or raw water users. 
Water Quality
Removal of lake sediment can have a positive impact on water quality. For example, sediments can be laden with phosphate and other nutrients. These nutrients partition from the sediment into the water in the lake. The subsequent effect on water quality can represent a cost burden to water treatment for potable purposes. Additionally, it has been shown that deeper lakes are less prone to eutrophication (and algae growth) than shallow lakes. Thus, the benefits of removing the sediment should be considered among the advantages of dredging a water supply lake. These benefits could be quantified in terms of reduced expenditures for capital improvements, chemical supplies and operations at the water treatment plant.
Permitting for Dredging Operations
Dredging involves PL 92-500 permitting. Both Corps of Engineers 404 permits and TCEQ Water Quality Certifications are required. For the most part, this type permitting is reasonably routine. The variability lies in the sediment quality and sediment dewatering areas. 
GET STARTED
Contact us about dredging consulting, equipment, pumping and dewatering to meet your contract requirements.