We provide Lake and Pond consulting and dredging services
GET STARTED
Contact us about dredge engineering, equipment, pumping, and dewatering to
meet your contract
requirements.
INDUSTRY PROBLEM
Everything in nature has a certain life span, including lakes and ponds. 
 There are methods that can extend a waterbody's life span such as nutrient remediation, hydro-raking, buffer management, or aeration
.
Yet, this doesn't work for any lake or pond. Sometimes the only option is dredging.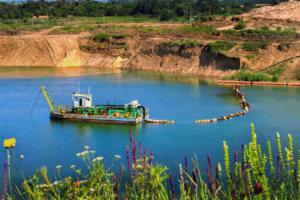 We extend the life of water bodies, improve water quality, and improve banks by dredging increasing depth, removing leaves and debris becoming more friendly to wildlife, and available again for recreational purposes through dredging.
Sediments transferred via pipelines for dewatering

Provide pre and post hydrographic surveys. 

Sediment Testing

Sediment haul away or re-use.

Attain any permits from local, state, and federal agencies
Lake & Pond Dredging Equipment and Consulting Services
Sediments can add up so much that the waterbody can't
retain
water anymore.
First and foremost
, dredging can help by increasing water volume and depth to even more than 15ft, which will boost the flow
. By removing the deposits, the entire life span of the lake can be reset.
Secondly
, it can also remove deep-rooted plants and debris. The appearance of the surrounding area (docks, beaches) can be
remarkably
improved too.
It's important to dredge according to the lake's characteristics such as volume, environment, and sediment type
. Other key factors are of course the budget and disposal method.
Certain factors can determine whether you'll go for dry, hydraulic, or clamshell/backhoe dredging
. Each dredging method is different and better suited for a certain type of lake or pond.
Here are the key points about the main ones:
If you need to move huge amounts of sediments, these are the ones you are looking for. They work both for organic and inorganic ones that don't include many rocks or hard sediment.
Hydraulic dredges stand out as they can operate
nearly
on a constant basis, which speeds up the process and reducing turbidity in the water column
.
The key components are the cutter and a few pumps that mix the sediment with water and move it away through a floating pipeline
.
Large water bodies make it possible for sediments to
be transferred
via pipelines. When there's a big disposal pond, the slurry can
be dried
naturally
. Portable equipment could also take the water out of the deposits so they can
be disposed
of.
Unlike hydraulic dredges, mechanical dredges rely on buckets that move the sediment in trucks or barges for disposal or reuse
.
This isn't a decision that one can
quickly
make. When you own a property, you might have many concerns
regarding
this. Also, there are no specific standard answers that apply to every lake and pond. The appearance of the surrounding area can be
remarkably
improved.
There are many things to take into account. You have to know the permits you might need, as well as the downtime.
The price matters a lot when it comes to such a big project.
So you should be well-informed not only about the possible costs but also about any alternatives that might benefit the lake and your budget too
.
Whether you need to remove deep-rooted plants, pesky algae, or heavy sediment, your waterbody could only
require
some spot dredging
. Or you could go full scale and completely improve the surrounding area too.
In any case, each project is different.
Therefore
it's
highly
useful to contact experts who can guide you through the whole process and help you make the right decision
.
This improvement is accomplished by dredging to reverse the negative impacts caused by:
accumulated decomposed organics and silts
decomposed vegetation
overgrowth of invasive vegetation as a result of shallower water
reduction in oxygenated water and increased water temperatures
accumulation of nutrients such as nitrogen and phosphorus from decomposition and runoff
GET STARTED
Contact us about dredging consulting, equipment, pumping and dewatering to meet your contract requirements.