As environmental regulations become more stringent, dredge and industrial waste management and disposal are becoming increasingly more important to meet Federal Guidelines. Dewatering dredging solid waste can increase the options available for disposal.
GET STARTED
Contact us about dredge engineering, equipment, pumping, and dewatering to
meet your contract
requirements.
High flow rate allows liquid to dewater, while containing solids
Fabricated with seaming techniques that resist pressures during pumping operations
Effective high volume containment
Efficient dewatering & volume reduction
No special equipment required
Custom site specific fabrication
Cost effective

Lower equipment cost

Low labor costs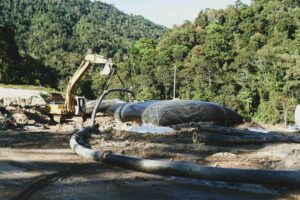 Geotextile tubes have successfully been used to dewater dredging spoil, wastewater sludges; hazardous wastes and industrial by-products.
Geotextile tubes are practical, site-specific, versatile, require little maintenance, and can be fabricated for high containment volumes.
Geotextile tubes are porous flexible tubular containers constructed of a woven polyethylene material, which can dewater wastes to over 10% solids in less than a week, and achieve final solids content over 30%.
Besides dredging applications, Marine applications include
Marine benthic waste 
Marine fresh cage waste 
Hatchery recirculation Hatchery recirculation and pass through waste and pass through waste

Biofouling waste from cleaning shellfish cages

Biofouling toxic waste (copper) from salmon net cleaning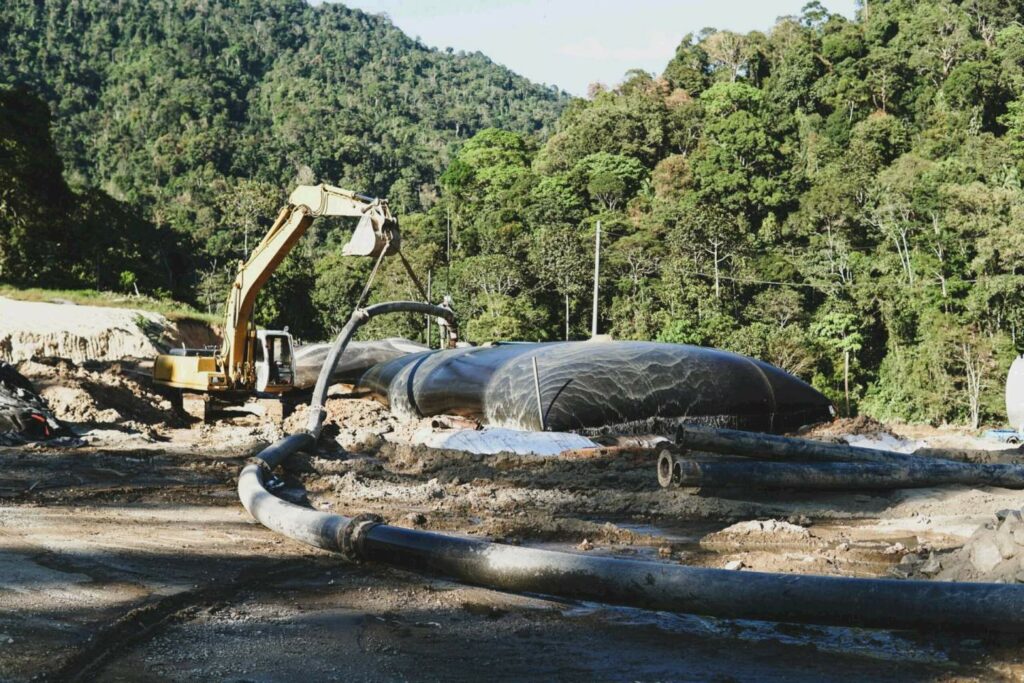 Geotextile Tubes Slurry Dewatering System
A dredge slurry dewatering system can drastically minimize the amount of slurry and reduce its water content even under 80%. After performing the dewatering process, the slurry can be moved by a regular slag car. This will reduce the transport charges.
Where can a dredge slurry dewatering system be used?
This kind of equipment is very important for dredging activities as it can significantly solve many big tasks.
These systems can be highly useful for these dredging projects:
Dredging of various natural waterbodies such as
river dredging,
lake dredging
pond reservoir engineering
In this way, the dredges carefully preserve the natural beauty of the waterbody. The equipment ensures and prolongs the existence of the waterbody for a long period of time. The river or lake won't keep being damaged by the massive amounts of slurry and unwanted solid material that can accumulate.
In the urban or rural areas, dredge slurry dewatering systems can be applied to:
Clear water stations desilting
Enterprise slag settling engineering
Municipal pipelines sludge
There is indeed a ton of mud involved whenever a river must be dredged. That can easily seem like a challenging task.
It's not easy at all to perform an effective environmental management. This just adds up and turns the task into a burden if you don't have an expert by your side.
That's not a problem anymore!
We are here to help you! Our aim is to effectively and successfully perform any dredging task and to save you money as well.
Geotextile Tubes are the less expensive dewatering method than mechanical but take a lot of land area. Often, the contractor gets leftover land area that is not square or rectangular so has to map out ahead of time to pick the right lengths of geotextile tubes to use in the available area. Geotextile tubes can roll, so the land must be graded to a 1-degree maximum slope.
Geotextile Tubes can have manufacturing defects at the seams that have to be inspected on-site before use.  If not inspected carefully the tubes can erupt and contaminated soils can land on your staff
Water comes out of the Geotextile Tubes quickly and will erode the soil. Contractors will lay down an impermeable barrier and in some cases also a layer of rock.
If the water is contaminated then the grade will lead to a pond where the water will collect and be pumped to an on-site temporary water treatment plant then pumped back to the water source.
Geotextile Tubes also will roll if filled beyond the manufactured limit. Contractors staff has to monitor the GT, usually to about 6ft, then will redirect the slurry into another GT by turning a valve.
After the GT has dewatered the slurry can be turned back onto that tube until it fills again, turned off, dewatered, over and over again until the GT is full of sediment. Once a GT is full of sediment a 2nd layer of GT can be layered on top of the full GeoTubes to dewater more sediments. Trying to add a 2nd layer before the Geotextile Tubes are fully dewatered leads to tubes rolling.
If the Geotextile Tubes are dewatering too slowly they can be stimulated by walking on them or hitting them with flexible PVC pipe will cause the water to come out quicker. Flocculants have to be added to the slurry before entering the GT to help separate the sediment and the water.
Different sediments will require different flocculants, the contractor will take samples first to find the right flocculants to add.  Flocculants are added to the slurry pipeline close to the Geotextile Tubes to allow proper mixing.
GET STARTED
Contact us about dredging consulting, equipment, pumping and dewatering to meet your contract requirements.