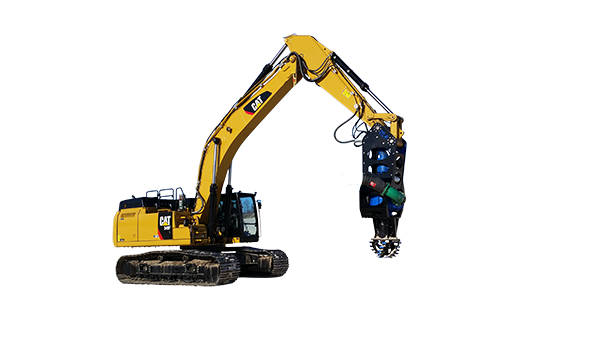 The Lowest Rates
Pre-Setup and ready to go for your application you can start right away meeting your contract's requirements without having to purchase perminant equipment.
Unlimited Usage
During your rental period you have unlimited usage of your dredging/pumping equipment.  Run long or multiple shifts and meet your timeline goals.
24/7 Pickup & Return Access
When you are done just ship the equipment back to us.  You also have the option to purchase the equipment minus your rental price just in case you landing a brand new contract in the meantime!
USA & Canada Rentals
We ship anywhere in the US and Canada.  Our dredging equipment is used by the US Navy, Rio Tinto, and companies around the world.  We are renond for our unique pumps that pump higher solids.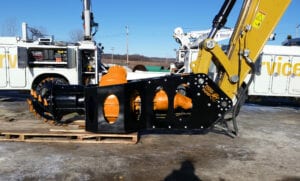 Excavator Dredge Attachment
Compatible with GPS guided dredge software
Custom fits to your excavator
More Details
Ideal Uses:  Hydraulic Barge Unloading, Mining Tailings Ponds, Slurry Ponds, Liner Safe Dredging, Heavy Construction, Dewatering, Railcar Offload, Long Reach Dredging and more.
Agitation Options: Cutterhead OR a high-pressure water jetting rings available depending on the dredging application.
Excavator Attachment easily pins into your existing bucket linkage and is powered off of the excavators' auxiliary hydraulics.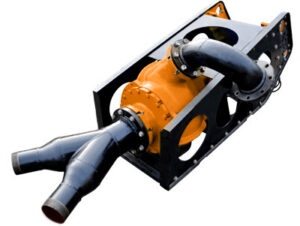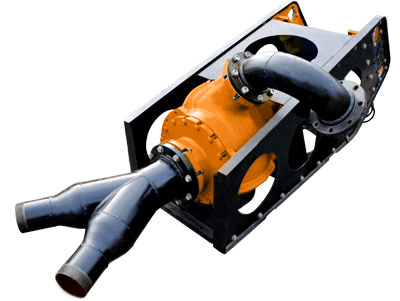 Single or Dual Diver Dredge
4" 75 HP Pump 6" 100 HP Pump
Pumps 300 feet w/o booster pump!
More Details
Our Diver Operated Dredge design is easily mobilized and designed for pumping production rates of 75 to 150 cubic yards of material per hour. This while pumping a higher solids content and not clogging like conventional pumps.
Units are fully submersible and are stationed on the lakebed or ocean floor.
Units can be powered electrically or hydraulically.  One system can allow one, two or three suction hoses and divers to operate simultaneously.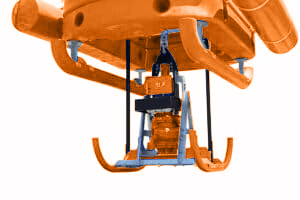 Great for Tailings Ponds!
More Details
Complete dredging solution for effective slurry, sludge, and solids removal, the Dredge Sled. With the latest technology, the Dredge Sled is a cost-effective solution for your pond, lagoon, canal, tailings pond, and settling tank cleaning.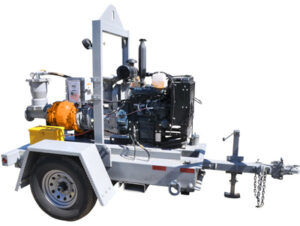 Self-Priming Slurry/Water Pump
More Details
This self-priming pump incorporates a vacuum-assisted priming unit, which then allows the pump to take full force. This fills the pump with slurry or target material, then allowing for the main pump to work.

Mining, Sand/Agg, Sewage/Wastewater, Chemical, Irrigation, Sump Pit Cleanouts, Digester Tanks, Dewatering, and More!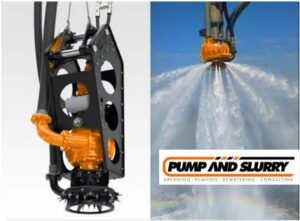 Cable Deployed Ring Jetting Dredge
Sizes: 4, 6, 8, 10, 12 inch
100-450 cubic yards per hour
More Details
This jetting ring contains 28 adjustable, high-pressure spray nozzles which are effectively used to agitate densely packed or consolidated materials to make them easier to feed the pump with a more consistent material flow rate.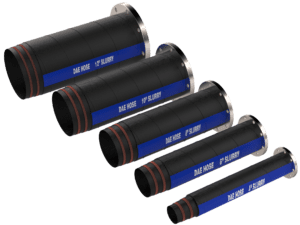 Sold in 33ft sections (10 meters)
More Details
A slurry hose suitable for use in dredging, mining, oil, construction, agricultural, sewage, and chemical industries.   The hose is the best high slurry hose on the market and can handle the most abrasive slurry at pressures of up to 150 PSI.   The inner rubber liner has is the most abrasion-resistant hose rubber with the highest quality.  The outer cover is developed with the most aging resistance and corrosion-resistant material. The bending angle working condition is from 0°-45°. The dredge slurry discharge hose is used for the dredging applications and other pumping applications in the mining, oil, chemical, wastewater, and other demanding industries.
25 Years Industry Experience
We Design, Build & Use Our Own Equipment
A Company with Real Hands On-Experience with Helpful Advice
High Chrome, High Solids, Patented Slurry Pumps
Less Downtime, Products are Designed, Supported and Made Locally.
Trusted by the Largest Mining and Dredging Companies.
Starting a Dredging Project Has Never Been Easier
Get 10m of Slurry Hose Free if You Book in 30 Days from Inquiry
Start Dredging!
It is tempting to buy some cheap Chinese pumps then figure you can buy 3 or 4 of them if you need to. But the reality is that those pumps can't pass the solids you are dredging and buying more won't help this fundamental problem, not to mention the long operating hours in harsh conditions.  DIY is never going to do it.  Our pumps will last your entire project helping you meet the requirements and perform so you can keep working instead of having downtime were your employees are standing around costing you a fortune.
We Invented all New Pumps
Typical centrifugal slurry pumps get clogged up with trash or get beaten up passing large solids such as rocks. Our pumps are all high chrome and use a special patented rotor system (instead of an impeller) that sits at the back of the pump, the large volute of the pump sends everything out the discharge port.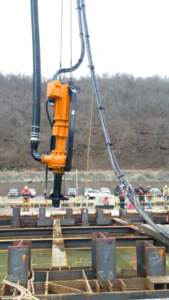 We used both the electric and hydraulic style pumps for diver assisted dredging. Both pumps operated continuously for over 45 days at 10+ hours a day with no problems at all. The only issue we had was a large fishing net wrapped around the impeller. Although it was making one hell of a racket, the pump never lost production. We are extremely happy with the pumps and the service provided. A must purchase for any diver assisted dredging products.
Justin Gleaton

I've been in the marine construction industry for 26 years and have done my share of dredging using various sizes of submersible trash pumps. The project I'm currently on we brought a 6" Toyo pump because the seafloor was to be consisting of sand and silt, but it's actually a mixture of sand, silt, and rocks up to 8" diameter. The Toyo removes material smaller than 1 ¾" and leaves a pile of clean rock below the intake that it's unable to pass. Our dredge permit only allows us to hydraulically dredge the material and so a clam bucket is not an option. A few months ago, we were faced with the possibility of not being able to complete our project during this fish window, but I did some research online and found P&S. We are now using the 6" P&S crane-controlled, or diver-controlled systems to move debris up to 5" diameter with no problems (that's right… a 6" pump can pass a 5" rock). The P&S pump has a unique attachment that allows 2 divers dredging using separate 6" suction hoses and suction heads that allow us to dredge debris 5" or smaller but expose the larger debris so it can be moved out of the ditch by the diver. When we enter an area that doesn't have the large debris we remove the diver-controlled system, attach the jet ring, and dredge using the crane-controlled system. After using the P&S Pump system it's hard to believe I haven't heard about them until recently. The Toyo's are quit a bit cheaper then the P&S, but they don't even come close to its capabilities.

Dredge anything from lined canals to harbors